Message us on social media if you have any questions
Course Overview
As part of our post-16 education provision, students get the opportunity to study a full time college education programme in the unique setting of a professional football club.
It doesn't matter what qualifications you have – we have a course for you
Courses we offer
BTEC Level 1 (1 year course) – Sport and Active Leisure
BTEC Level 2 (1 year course)  – Leadership through Sport
BTEC Level 3  (2 year course) – Development, Coaching and Fitness
After completing the year course, you will progress onto the next course whilst also having the opportunity to re-sit English and Maths alongside your main course (if required).
The aim of the courses is to equip you with the knowledge, skills and expertise in order to build a career within the fitness, leisure and sports industry.
You will be able to analyse health and fitness, design exercise programmes, analyse how the body works, treat and prevent sports injuries, develop your knowledge of individual and team sports, sports coaching and organise sports events.
There are two pathways for students to follow alongside their education programme
Football Academy
Train and compete like a professional footballer
Futsal and Football Training 3 times a week
Games programme every Wednesday in either the North West Futsal Development league or in the form of 11-a side fixtures against other professional football clubs
Opportunities to attend international training camps
Opens the door to a career in sport
Sports Coaching Academy: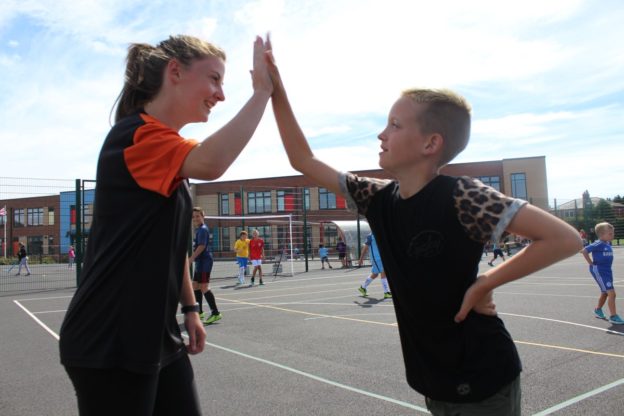 Coaching workshops with our qualified and experienced coaching mentors to learn and improve skills required to be an elite sports coach
Gain up to FIVE FREE coaching qualifications across the two academic years
Regular work placements within local schools and community settings to enhance employability skills
Opportunity for international coaching placements
Opens the door to a career in coaching/teaching in sport
Assessment Methods
All assessments are assignment based and are broken down into small tasks for learners to complete.
We use a variety of different methods, such as presentations, written tasks, interviews and practical assessments.
We ensure that our assessment methods meet the needs of our learners and we support the learners to complete an assignment in a method that best suits them.
Teaching and Learning
Our experienced teachers cater for all different learner styles and needs, using a range of teaching methods to enable everyone to achieve or exceed their potential. A key method used is demonstration, which allows you to observe the practical application of skills before having a go yourself.
The course combines group work, individual work, practical sessions and dedicated self-study periods.
We offer smaller class sizes, which provide learners with more one-to-one support with staff when needed. It also allows teachers to plan and deliver extension tasks to challenge and support learners when achieving their targets.
Industry Placements and Trips
We encourage and support all our learners to take part in voluntary work throughout the course, as volunteering will enhance their career prospects and often leads to offers of permanent employment. We deliver our own V100 Programme which allows learners to gain experience within other projects that the Trust deliver with highly qualified and experienced coaches gaining an insight into over 50's, early years, school sport and disability coaching.
NCS is another residential that students will go on, which is free of charge for our learners. This involves learners going away for a week and on their return; complete a Social Action project for the local community.
We also take our learners on regular trips throughout the year and an end of year residential. Some places we have been previously are the National Park Lake District, Club La Santa in Lanzarote and Alicante.
We are now recruiting for BTEC Level 1, 2 and 3 courses, for more information please contact the Community Trust on 01253 348691 or follow the link at the top of this page to apply.
Don't stop there! You now have the opportunity to extend your education by proceeding to a Foundation Degree. Increase your employability opportunities and develop your skills even further.