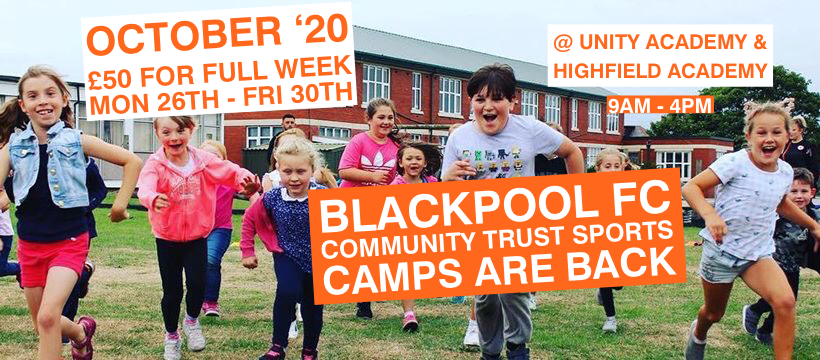 This half term we are introducing specialist football specific groups as well as our usual sport and activity options.
Football Groups (Aged 8 – 11):
These will be skill based sessions combining individual challenges and small sided games.
Sport and Activity Groups (Aged 5 – 11):
These groups will take part in multisport sessions (dodgeball, Rounders, Danish Longball etc) as well as fun activities, Just Dance and gaming)
IMPORTANT INFO:
Location 1: Unity Academy (access through main entrance)
Location 2: Highfield Academy (access through main entrance)
Dates: Monday 26th October – Friday 30th October
Time: 9am-4pm
Price: £50 for the full week
Online booking ONLY: https://officialsoccerschools.co.uk/blackpoolfc/blackpool-fc-courses.html?p=1
Booking Info:
Due to Covid measures, whole week bookings only
£50 for full week (no single day bookings available)
No pay on the day option
Blackpool FC Community Trust prides itself on delivering the best Holiday Sports Camps available. With consistent high numbers at our Sports Camps, we advise parents/guardians to book on as soon as possible.
Emma Collinson booked her son on the Summer Holiday Sports Camps last year and she could not be happier with the Sports Camps. Emma said: "I just wanted to say my son has loved summer this year because of the Holiday Sports Camps. The staff were amazing and always happy. They did an amazing job and my son loved it. The Community Trust has allowed me to work without the worry of him being bored or unhappy. Brilliant value for money."